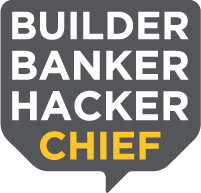 Interviews with Bank and Fintech leaders
What makes a leader in banking or fintech? Nathan Baumeister is on a mission to find out in his interview show "Builder Banker Hacker Chief".
Episode 2 - Gabe Krajicek
What comes after winning, leaders going off script, and the inescapable power of intent.
Building from scratch, fintech spinoffs, and the secret power of cost accounting.