Watch the webinar on demand
In today's business world, specialized deposit management has become more necessary than ever. That's why we at ZSuite Tech have built a responsive web application called ZEscrow dedicated to digital commercial escrow and subaccounting.
Our platform accommodates a variety of entities and organizations searching for an escrow or subaccounting solution that is convenient, compliant, and full-featured. With specialty deposits in mind, ZEscrow provides a comprehensive solution to meet the demands of industries such as title companies, landlords, real estate offices, 1031 exchanges, and funeral homes.
Our digital solution streamlines the process of managing commercial escrow and subaccounting accounts by optimizing functionality for both financial institutions and commercial clients. With ZEscrow's responsive web app, handling the unique and varying requirements of commercial escrow and subaccounting accounts no longer needs to be a challenge.
In this video, our CEO and Co-founder Nathan Baumeister explains
What commercial escrow is
What types of businesses currently use commercial escrow
Stories of bank to business relationships that have deepened and grown with digital escrow tools
Plus, current ZSuite Tech customer Yobany Mayen from Encore Bank joins Nathan to talk about Encore's success with ZEscrow.

What is Commercial Escrow?
Unlike the escrow on mortgages that you may be familiar with, Commercial Escrow typically falls under the category of specialty deposits. The main use case within commercial escrow can be summed up as three-party accounts. In this arrangement, the financial institution represents the first party, while the company, which is the client of the institution, is the second party. The company holds the money on behalf of its own customers or beneficiaries, who are the third party.
These accounts are essential to the day-to-day business of commercial clients. They need to be able to see how much they are holding in the master or omnibus account, how much is held on behalf of each beneficiary, and how much interest is generated and disbursed to each beneficiary.
One simple example of this is a 1031 Qualified Intermediary who is holding funds for a real estate transaction on behalf of a customer. The average 1031 exchange is around $500,000. These funds need to be held for a specific amount of time at a financial institution, and all interest and fee activity must be tracked and visible to all three parties involved.
What is Commercial Subaccounting?
The second use case that falls within commercial escrow and subaccounting is the sub-ledgered account. These are accounts of commercial customers who need to have clear delineation between funds in their accounts, including transactional tracking of any money moved into or out of any of the subaccounts and any interest earned by the money in each subaccount.
The example shown here is a municipality who has separated funds for each of their departments, but this would also work for operating accounts at any company who wanted to break out departmental funds as budgeted.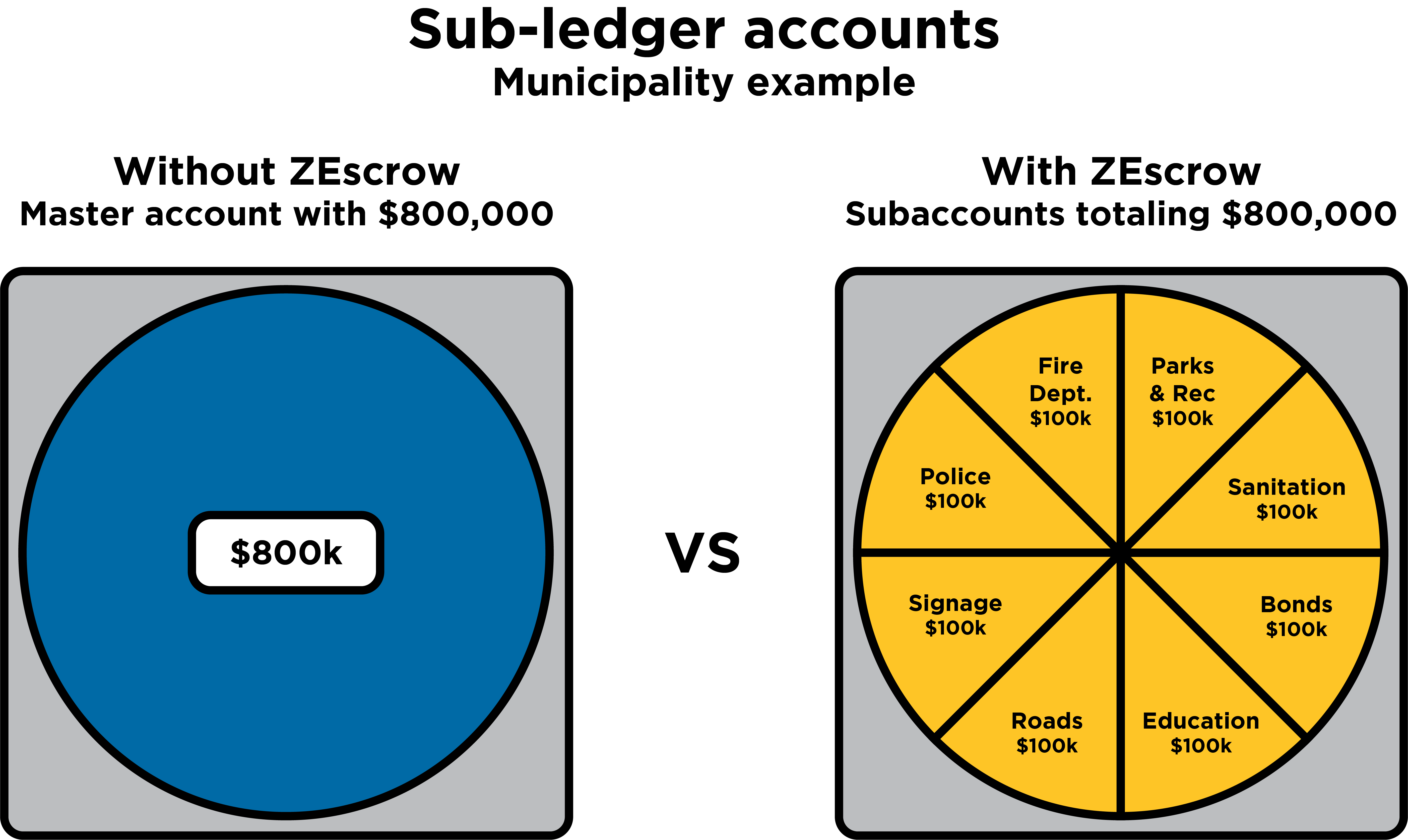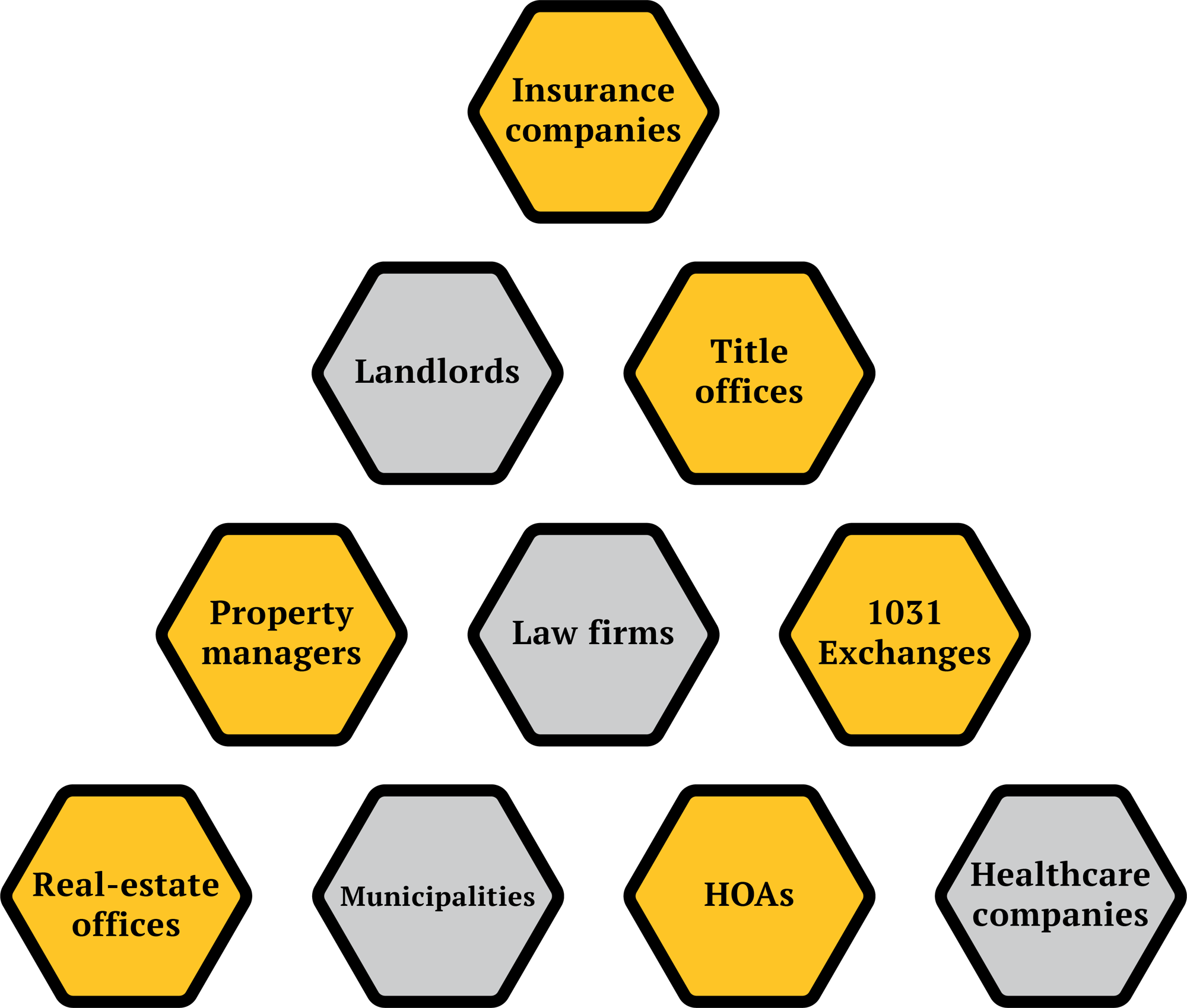 What is the market opportunity?
Who uses commercial escrow accounts? Attorneys, landlords, property managers, municipalities, real estate offices, title companies, non-profits, healthcare providers, funeral homes, construction companies, and 1031 Exchanges.
Is there a business need? Here are some of the use cases: In 2022, the US had:
44 million rental units with a median rent of $2,305 leading to an estimated security deposit potential of $101B.
5.95 million homes sold with a median down payment of 13%, driving a potential $22B deposit opportunity.
449,633 law firms with approximately 44,963,300 subaccounts. If each subaccount has an average balance of $2000, then this results in $89B in deposits.
2.4 million funerals with an average cost of $8K, resulting in a $19B deposit market opportunity.
Why doesn't everyone do this?
Despite the huge opportunity, very few financial institutions are offering commercial escrow services. One of the main reasons for this is the difficulty in supporting the different industries that use commercial escrow. For example, landlords, title companies, real estate offices, funeral homes, and 1031 exchanges all have different rules depending on geography and industry. This makes it challenging for banks to provide efficient and cost-effective services to each one.
The operational inefficiencies of providing commercial escrow have led many banks in the US to avoid these types of accounts altogether. Even some of the largest banks that have attempted to offer these services have ultimately found them to be too inefficient and costly.